2021 Atlas Copco / Epiroc SB452 | Attachment | Demolition Hammer
Atlas Copco / Epiroc SB452 Demolition Hammer Specifications
General
Dimensions
Description
Atlas Copco / Epiroc SB452 Sloophamer voor machines tussen de 7 en 13 ton.
Deze sloophamers is de beste in zijn segment dankzij de Solid Body technologie.
Massieve behuizing met bijna onderhoudsvrije componenten.
SB hydraulische sloophamers zijn slank, compact en eenvoudig te hanteren, waardoor ze zeer veelzijdig zijn. Ze combineren een superieur rendement en prestaties met eenvoudig onderhoud en hoge betrouwbaarheid
Het concept van massieve behuizing integreert het slagmechanisme en geleidingssysteem in één enkel blok van speciaal gietijzer en reduceert het totaal aantal onderdelen beduidend. Bepaalde onderdelen zijn niet meer nodig, zoals demping- en geleidingselementen en trekstangen of tapeinden. Het resultaat is een uiterst slanke en compacte vorm, die het hanteren vereenvoudigt › Vervangbare zuigerbekleding voor lage reparatiekosten › Olie-aftapplug voor snelle & gecontroleerde olieverversing bij wijzigingen in oliekwaliteit of algemene revisie
Gepatenteerd sluitsysteem voor het gereedschap met sluitbuffer en massieve pen voor snelle verwisseling van het gereedschap › Centraal smeerpunt om het handmatig invetten van het gereedschap te vereenvoudigen › Atlas Copco heeft de zelfaanzuigende smeerpomp ContiLube™ II micro (SB 52-552) of ContiLube™ II (SB 702-1102) met instelbaar vetvolume ontworpen voor ononderbroken werking en geoptimaliseerde smering › Gereedschapbus met zwevende pasvorm voor het gemakkelijk ter plekke vervangen met standaard handgereedschap › Geïntegreerde stofwisser om de levensduur van de bus en houderstangen te verlengen › Twee ovaalvormige houderstangen voor het gereedschap en een grote diameter van het gereedschap om de duurzaamheid te verhogen
Atlas Copco / Epiroc SB452 Customize
ADDITIONAL OPTIONS AND ATTACHMENTS
Make a choice in execution and additional options and immediately receive a competitive price. Building your own machine has never been easier!
Start configuring immediately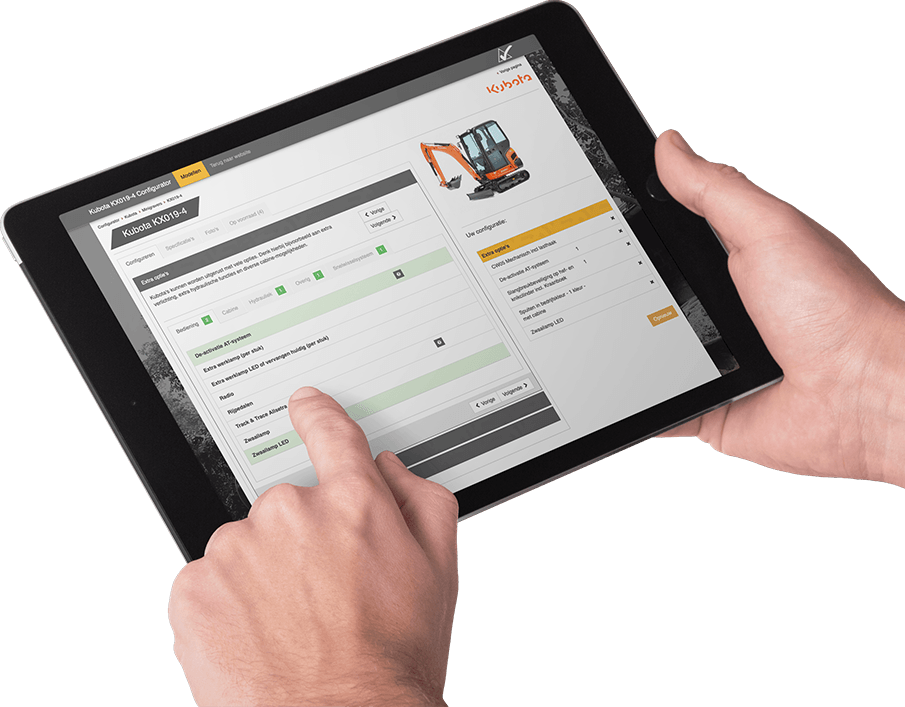 Atlas Copco / Epiroc demolition hammers
Demolition hammers from Epiroc / Atlas Copco have been in our range for some time.
A demolition hammer from this brand breaks effortlessly through the hardest materials.
view more demolition hammers