2022 Kubota U10-5 | Excavator | Mini Excavator
Selling price
Op aanvraag
Lease from
€ 360,00
per month
Lease opportunities
Not in the mood for pre-financing? Let us inform you about leasing this Kubota U10-5
Kubota U10-5 Mini Excavator Specifications
General
Undercarriage
engine
Dimensions
Description
De Kubota U10-5, de opvolger van de U10-3.
Zeer compact, betrouwbaar, sterk, eenvoudig en comfortabel te bedienen.
Voortaan standaard voorzien van robuuste zijbediening welke eenvoudig en ergonomisch te bedienen is.
Het kloppende hart van de U10-5 is een originele Kubota motor welke uiteraard voldoet aan de strenge stage V emissie-eisen.
We kunnen deze U10-5 minigraver in onze eigen werkplaats voorzien van vele opties zoals een hydraulische CW00 of CW05 snelwissel en eventueel sloopsorteerfunctie.
Uiteraard zijn diverse aanbouwdelen zoals sloophamers en sloopsorteerknijpers uit voorraad leverbaar.
Kubota U10-5 Mini Excavator Options
Anti Theft (Theft protection)

Additional hydraulic function

Led Work Light

Mechanical CW00 quick coupler and 3 buckets

Servo control levers next to the seat

Extendable Undercarriage
ADDITIONAL OPTIONS AND ATTACHMENTS
Make a choice in execution and additional options and immediately receive a competitive price. Building your own machine has never been easier!
Start configuring immediately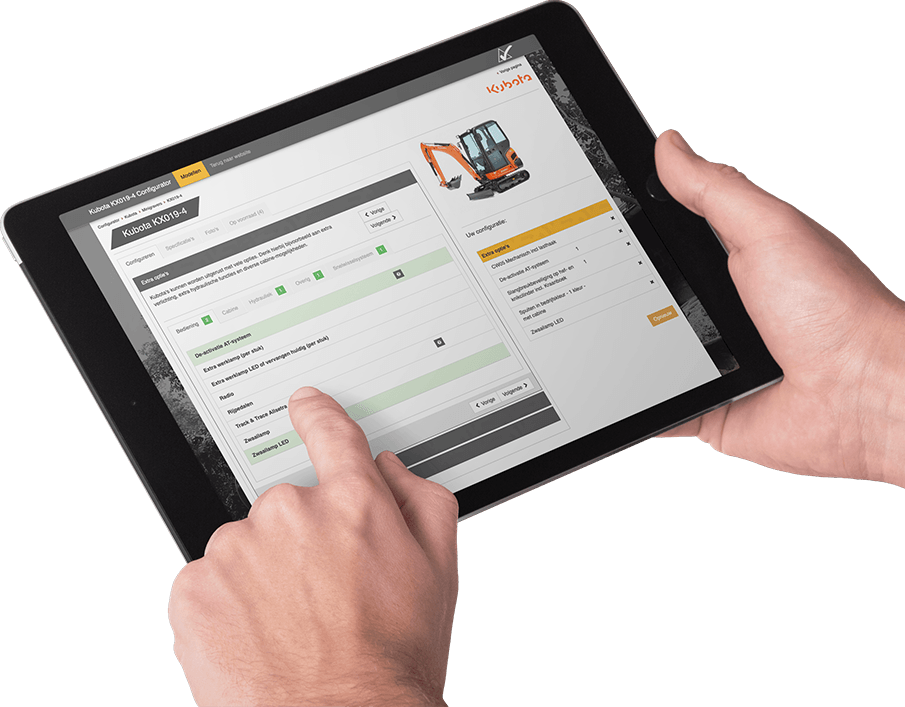 Seeking Attachments for this mini excavator?
Mini Excavators
Mini excavators are used for small-scale excavation. These mini excavators come in different sizes and weights and are very user friendly. For excavation and demolition work in confined spaces such mini excavators are often used. This is partly due to the diggers are very functional and can be equipped with various attachments as buckets , demolition / sorting pegs and hydraulic pincers .
Kubota mini excavators
Kubota is a well-known producer of mini excavators and midi excavators.
We have been supplying Kubota machines since 2001.


view more mini excavators