2022 Giant G2700E X-tra | Wheelloader | Mini Shovel
Giant G2700E X-tra Mini Shovel Specifications
General
Undercarriage
engine
Dimensions
Description
Deze 100% elektrische Giant minishovel is voorzien van het zwaarst mogelijke accu-pakket en alle noodzakelijke opties om de machine te voorzien van een kenteken zoals verkeersverlichting en transportlock.
Verder voorzien van een tweede extra functie, proportioneel te bedienen in de joystick.
Profiteer van de MIA/Vamil-regeling
Als ondernemer is het mogelijk om fiscaal voordelig te investeren in milieuvriendelijke technieken zoals de G2200E en G2700E. Daarnaast profiteer je van lagere bedrijfskosten en minder onderhoud tijdens de levenscyclus van deze GIANT machines.
Om dit moment bestaan er diverse regelingen zoals de MIA/Vamil
G2700E Elektrisch
De elektrische minishovel G2700E X-TRA heeft een hefvermogen van 2200kg, een hefhoogte van 2.49 meter en is speciaal ontwikkeld voor extreem zwaar werk en werkzaamheden in de bouw en grondverzet. De wiellader combineert het beste van twee werelden met de voordelen van een kniklader en een vrijwel geruisloze werking zonder uitstoot. De G2700E X-TRA is daarom ideaal voor het werken in gebouwen of op bouwplaatsen in stedelijke gebieden.

Standaard is de G2700E X-TRA uitgerust met een 48V lithium-ion accu die eenvoudig geladen kan worden met de "on board" lader. De afzonderlijke elektromotoren, 6,5 kW voor de aandrijving en 12 kW voor de werkhydrauliek, zorgen altijd voor voldoende vermogen om werkzaamheden precies uit te voeren. Verder regenereert de machine energie wanneer de machine uitrolt of van een heuvel omlaag rijdt.
Uitvoering Giant G2700E
Onze machines zijn meestal voorzien van vele opties om deze als werktuigendrager te kunnen gebruiken. Informeer dus altijd naar de uitvoering van de desbetreffende Giant en laat je overtuigen door de mogelijkheden.
Deze Giant G2700E is bijvoorbeeld voorzien van het grootste accupakket beschikbaar, zwaarste onboard-lader en twee extra functies.
MIA/Vamil
Milieu-investeringsaftrek (MIA) is een fiscale regeling en geeft ondernemers belastingvoordeel. U investeert fiscaal voordelig in een milieuvriendelijke techniek als deze staat op de Milieulijst die hoort bij deze fiscale regelingen. MIA is geen subsidieregeling.
De GIANT G2700E en GIANT G2700E X-TRA vallen voor het jaar 2022 in de MIA-regeling van het Rijksdienst voor Ondernemend Nederland. De machines komen in aanmerking voor de meldcode G3413: G = 45% MIA. Vraag uw boekhouder/accountant naar de voordelen. MIA dient u binnen 3 maanden na het 'aangaan van verplichting' tot aankoop van het bedrijfsmiddel te melden. Dit is bijvoorbeeld het tekenen van een koopovereenkomst.

Meer informatie over de regeling en het melden van uw aankoop kunt u op de volgende website: https://mijn.rvo.nl/mia-en-vamil
Giant G2700E X-tra Mini Shovel Options
18 km/h

1x additional hydraulic function, mechanical

1x auxiliary hydraulic function, proportional

3-pin plug on the front

Giant Quick Coupler - Standard

Lifting suspension / Arm damping

License plate holder with lighting

LFP battery, 26.6 kW / 520 Ah / 48V (375 kg)

Led Work Light

Leak oil connection to the front

Charger (on board), 230V / 60A

Pallet fork 120cm

Rubbish bin with insert sheet

Fender extension set

Safety roof folding Deluxe

Traffic lights LED

Side mirrors (L+R)

Beacon LED
Giant G2700E X-tra Customize
ADDITIONAL OPTIONS AND ATTACHMENTS
Make a choice in execution and additional options and immediately receive a competitive price. Building your own machine has never been easier!
Start configuring immediately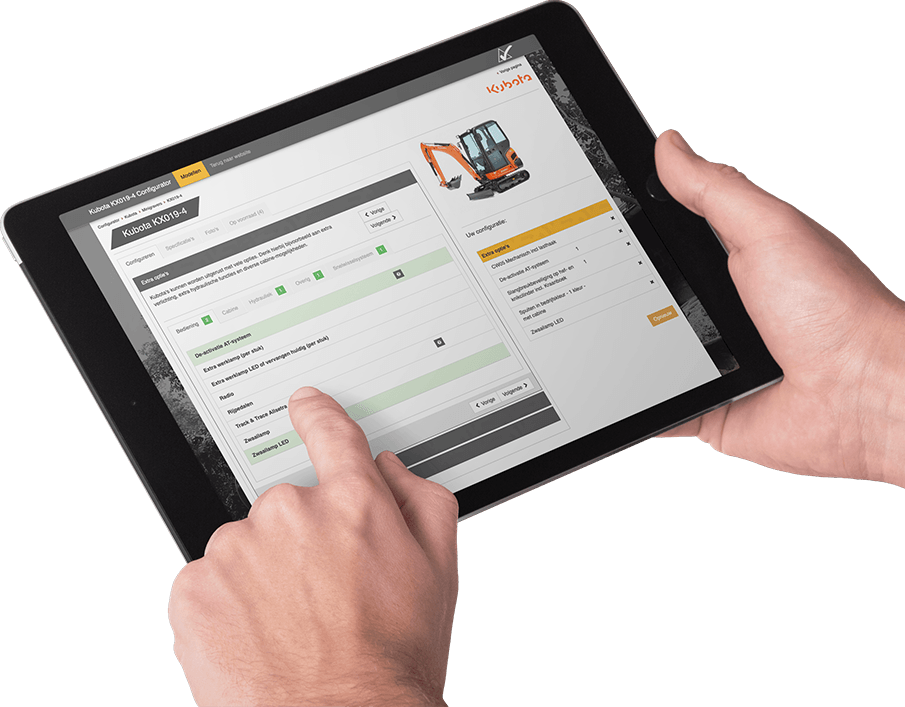 Seeking Attachments for this mini shovel?
Mini Shovels
Mini wheel loaders are often used in hard to reach places. These miniloaders are narrow and can therefore reach places with little space. This is because a minishovel also happens to have significant capabilities and one variety attachments can mount as a proof pan , palletbord , stone clamp or veegbezem .
Giant mini shovels
Giant mini wheel loaders and telehandlers are known for their
compact size and short turning radius.
These machines are very manoeuvrable and can be used in many places.